Islamophobia? 3,462 Christians Hacked To Death By Nigerian Jihadists In 200 Days!
While Muslims shamelessly continue to push the 'Islamophobia' propaganda on us, we learn that in Nigeria 3,462 Christians have been murdered by jihadists since the beginning of 2021.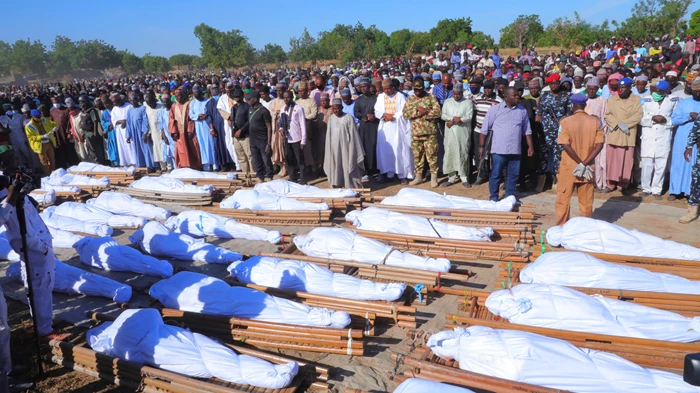 The International Society for Civil Liberties and Rule of Law in Nigeria was founded for purpose of setting the record straight when it comes to the genocide perpetrated on Christians by Muslims in Nigeria. It is a research and investigative rights group which has been monitoring and investigating religious persecution and other forms of religious violence by state and non state actors across Nigeria since 2010. Their process involves "the use of direct contacts with the victims, eyewitnesses, media tracking, review of credible local and international reports, interviews and closed sources."
The organization reports that "the number of defenseless Christians hacked to death by Nigeria's Islamic Jihadists and their collaborators in the security forces in the past 200 days or January 1st to July 18th, 2021 has risen to no fewer than 3,462.
DAILY AVERAGE? YOU HEARD RIGHT!
The report of the organization goes on to say that this number further represents a daily average Christian deaths of 17, the second highest since 2014 when over 5000 Christian deaths were recorded in the hands of Boko Haram and Jihadist Fulani Herdsmen.
ABDUCTIONS
The report also found out that the total number of abducted Christians since January is 3000, out of which at least three out of every abducted thirty Christians were most likely to have died in captivity; thereby indicating additional secret death in jihadists' captivity of 300 Christians.
Additional deaths of 150 is also added to represent 'dark figures' or deaths that occurred but not reported or recorded.
You can read the full report here.
Let's compare, shall we?
What kind of "problems" do Muslims run into here in America and in the Western world?
Let's see, they get boatloads of tax-payer funds through all kinds of welfare programs simply for being 'refugees'. Whatever money they don't get through legal means they scam out of government through schemes such as setting up fake child care centers. They setup voter fraud schemes and 'elect' jihadists into our political system. Then they fund Jihad overseas. They have to because this is what the imams are telling them to do. The imams are trained this way because this is what Islam teaches!
And then, to add insult to injury, they complain about being disliked! And call that 'Islamophobia'.
While at the same time Muslims are butchering Christians systematically, in the name of Islam, day in and day out, to the tune of around 100,000 victims annually.
Islamophobia?
Only criminal minds devoid of any sense of shame could come up with such travesty.
We're not buying it. Never have, never will.
God have mercy on the men, women, and children who fall victims at the hands of Jihadis each day, and God help us be their voice in the midst of a culture flooded with jihadist propaganda sanctioned by the terrorist Left!
George
https://islamophobia.watch/wp-content/uploads/2021/07/img_0920.png
393
700
admin
/wp-content/uploads/2020/06/logo-red-300x300.jpg
admin
2021-07-30 13:16:06
2021-07-30 13:16:06
Islamophobia? 3,462 Christians Hacked To Death By Nigerian Jihadists In 200 Days!