Two French slaughtered, seven wounded by Sudanese 'refugee' shouting Allahu Akbar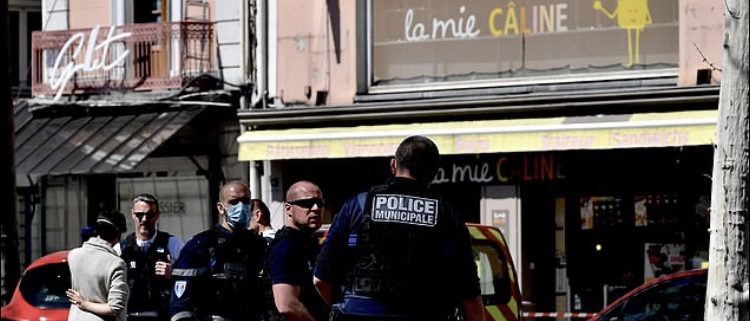 The massacre took place in the town of Romans-sur-Isère, which is south of the eastern city of Lyon, late on Saturday morning. It is consistent with the numerous suicide knife attacks carried out by Islamic State-linked jihadists in France in recent years.
The 33-year-old man, identified as Abdallah A.O., was heard shouting "Allahu Akbar" – Arabic for "Allah is the greatest" – before stabbing his victims.
When police arrived, the man was shouting "Kill me! Kill me!" but the officers managed to arrest him without harming him.
Later, France's interior minister, Christophe Kastener, described how the man – who had arrived from Sudan several months earlier but who was not known to police – attacked his victims in a bakery, a tobacco shop and then in the street before police intervened at around 11am.
French counter-terrorism prosecutors said Abdallah had sought asylum in the country despite "complaining that he was living in a country of infidels".
A spokesman for the office said: "During the search carried out at his home, police found handwritten documents with religious overtones in which the author of the lines complained specifically about living in a country of non-believers."
The spokesman said an investigation had been launched into "two murders and attempted murders in connection with terrorist activity".
He confirmed that Abdallah had stabbed to death two victims, so far unnamed, and seriously wounded seven others.
For many years, the United Kingdom was a favored destination for Sudanese "refugees", but the closure of the so-called Jungle refugee camp in Calais has made crossing the Channel more difficult.
The jihadist was found on his knees on the pavement, praying in Arabic, prosecutors said.
Two of the wounded are in intensive care at hospitals in the Lyon area. One of them was stabbed in the bakery, after which the attacker dropped his original knife and went into the butcher's shop to get another. After continuing with his deadly attack, the Arab jumped over the shop counter and stuck the butcher knife in his victim's neck. He then fled into the street and began randomly lunging at anyone who got in his way.
When the police arrived, he put his hands up and demanded to be shot.
"He was screaming at the cops to kill him," said David Oliver, a spokesman for the national police union Alliance. "All the ingredients of a terrorist act are there."
Without identifying the assailant or his victims, Mr. Kastner confirmed that investigators were working "in conjunction with national counterterrorism prosecutors to shed light on this drama."
The attack was carried out during the extremely strict ban on public places due to the most recent Covid lockdown, which allows only basic shops such as bakeries, grocery stores and tobacco shops to remain open.
Ironically, only few months ago, in May this year (2021) the French President Macron was bragging about how proud he was that Sudanese would be able to enter through France and be part of the civilized world!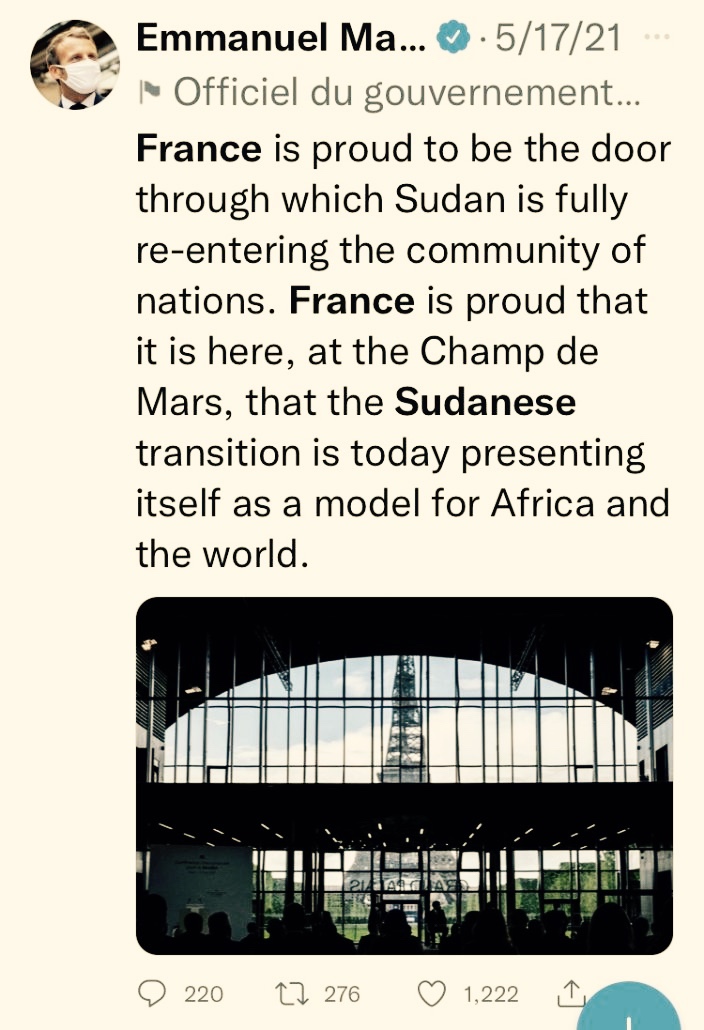 Saturday's killings are part of a string of bomb, gun and knife attacks carried out by Islamic State and al-Qaeda jihadists in France in early 2015.
The deadliest terror attack in French history took place in November 2015, when 130 people were killed in Paris. Suicide bombers claiming allegiance to ISIS attacked the Bataclan concert hall, killing 90 people.
Earlier in the year, two Paris-born gunmen linked to al-Qaeda stormed the offices of the satirical magazine Charlie Hebdo, killing a total of 20 people.
In July 2016, 86 people were killed and more than 400 injured when a jihadist ploughed a 19-tonne truck into a crowd of people on a promenade in Nice, in southern France. The terrorist turned out to be a Tunisian immigrant who was shot dead by police at the scene.
In the same month, two ISIS terrorists killed an 86-year-old Catholic priest during a church service in Normandy.
Knife attacks on law enforcement forces are common in France, resulting in the deaths of police officers.
Last October, a radicalized computer specialist working in the Paris prefecture stabbed four of his colleagues. The attacker, who was also shot dead, turned out to be a Muslim convert whose computer was found to contain jihadist literature and images of al-Qaeda and ISIS.
Based on this Daily Mail report: https://2×1.io/B6xGA8
https://islamophobia.watch/wp-content/uploads/2021/12/img_3413-1.jpg
467
750
admin
/wp-content/uploads/2020/06/logo-red-300x300.jpg
admin
2021-12-26 11:54:18
2021-12-26 11:54:18
Two French slaughtered, seven wounded by Sudanese 'refugee' shouting Allahu Akbar