On June 15 a Somali website called the Sahan Journal informed the world that one Anisa Hajimumin has been appointed to lead "a new state office". Appears as if Anisa will be an "assistant commissioner for immigrant and refugee affairs". Thanks to this report by KSTP from February 2020, it becomes clear that Anisa will be getting paid up to $142,000 a year.
From the Sahan post we learn that Anisa is a gender studies and creative writing Hamling graduate who somehow became "an entrepreneur and an activist". No word what her "entrepreneurship" was about. Oh wait, we do know. Thanks to this Wikipedia page we learn that she worked as a paralegal and then founded some NGO…a non-profit called "Hajimumin & Associates", focused on designing workshops for youth development and women's empowerment. And there you have it! That's a nice entrepreneurial story, isn't it? I'm sure the financials of the non-profit will be a very interesting part of the story to look into. Maybe later.
Now to all of you islamophobes, you must be tempted to think "What in the world is going on here?"
Stop! Don't you think for a minute you can use your brain to weigh in on what makes sense in this story and what doesn't. There's a higher cause here, don't you get it, infidel? We're fighting Islamophobia here in Minnesota. How inappropriate of you to try to do the math…to think "wait I thought entrepreneur meant someone who creates economic activity and value"? See, this is your barbaric, profit-obsessed, capitalist pig mind working now. Anisa has shown us a higher way to higher income. Watch and learn!
While managing her NGO and being an activist, Anisa managed to also write a book about Somali women and their issues.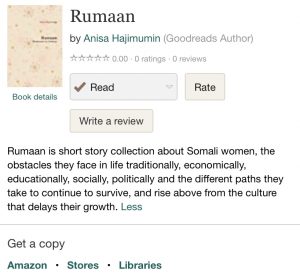 Wait, women issues where, in Somalia? Or in America? Most probably in Somalia because this same woman, Anisa, now under a different last name: Haj Mumin, was in fact appointed as an official in the Somali government in 2014! Her position? She was the Minister of Women Affairs!
No word on how long she served as the Minister of Women Affairs in Somalia. Is she still an acting minister? What did she achieve while in office there? Minnesota media should be asking these questions. As usual they aren't.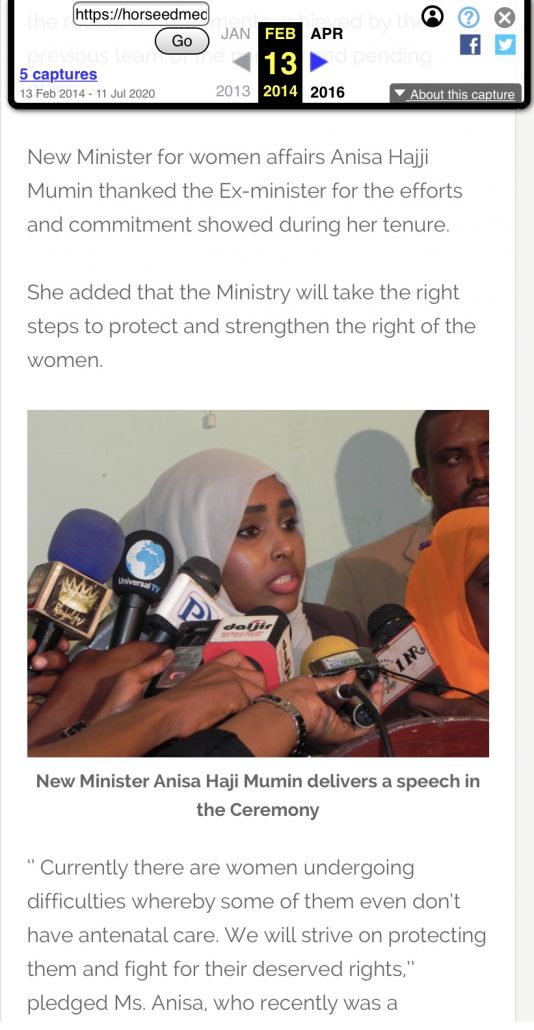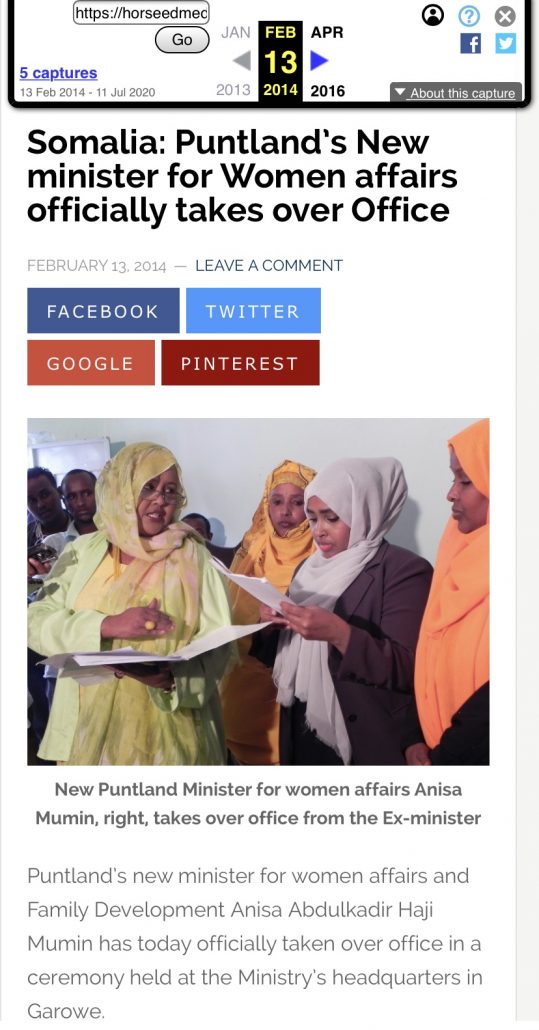 Are you getting the picture islamophobes?
This individual was born in Somalia, lived in Minnesota long enough to graduate gender studies (supposedly), became a paralegal, became the founder of a non-profit (we'll look into the non-profit later), then a minister in the Somalia government as recent as 2014. Six years later this same woman is appointed in Minnesota government by the Walz administration with a $142,000 annual salary to basically teach third world transplants how to work the system. After all she is a shining example of how you can be a minister in the Somali government and in the Minnesota government.
She seems to be as good as Ilhan "Omar" Elmi. In fact the next logical step for would be Minnesota politics. After all, someone needs to fight even harder for all these oppressed minorities who suffer terrible racism and Islamophobia in Minnesota.
Isn't this clear as day from the story you just read?
https://islamophobia.watch/wp-content/uploads/2020/07/img_3825.jpg
826
828
admin
/wp-content/uploads/2020/06/logo-red-300x300.jpg
admin
2020-07-11 07:44:18
2020-08-20 08:20:47
Somali government official appointed in Minnesota government by Walz!