French Muslimas are creating fake drama in France over not being able to wear hijabs when they play soccer.
The question is why stop at demanding hijabs only? Why not wear full niqab or burqa? They will be considered even more pleasing to Allah.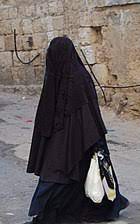 What happens if they reach for the ball and they spread their legs sliding on the grass which happens all the time in soccer? What if part of their legs are seen by the crowd? What if the crowd suddenly begins to lust after said soccer player? The imam at the local mosque will be super upset and might have the woman flogged. This would be a very good judgment according to Sharia "law".
They should definitely go for full body niqabs!
abcnews.go.com/International/hands-off-hijab-french-muslims-rail-ban-religious/story
/wp-content/uploads/2020/06/logo-red-300x300.jpg
0
0
admin
/wp-content/uploads/2020/06/logo-red-300x300.jpg
admin
2021-08-13 22:29:15
2021-08-13 23:16:55
French Muslimas Demand Hijabs in Soccer