Watch Biden vowing he'll make Islam mainstream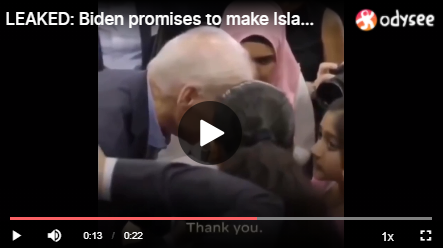 Joseph Biden isn't indifferent to how prominent Islam will become in America. This much we know because more than once he made references to Islam during his 2020 presidential campaign. While many commentators are blasting him for his lack of leadership, the argument can be made that he did exactly what he wanted to do: leave Afghanistan to the Taliban in his desire to get the approval of Muslims.
Watch him promise some Muslim girls he will make Islam mainstream in America:
Do you think this audio was leaked randomly? Probably not. This looks much more like a well orchestrated stunt for the purpose of getting Muslims votes.
What else is Biden willing to do in order to combat "islamophobia"?
https://islamophobia.watch/wp-content/uploads/2021/08/brave_bg4nWFiEdT.png
248
443
admin
/wp-content/uploads/2020/06/logo-red-300x300.jpg
admin
2021-08-19 15:31:49
2021-08-19 20:36:08
Watch Biden vowing he'll make Islam mainstream