Is Twitter's new Indian CEO an apologist for Jihad?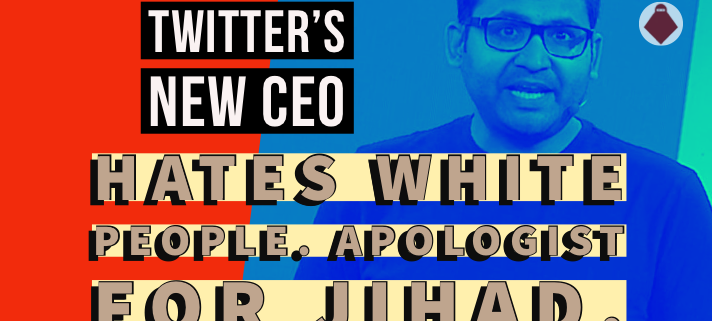 The new CEO of Twitter is most probably a Muslim. He seems to be in support of jihad as well. This is what you are not going to read in any of the headlines popping up on the Interwebs following the news of Jack "Ban Trump" Dorsey stepping down from the CEO role at the far-left activist organization.
AN APOLOGIST FOR JIHAD?
Some publications on the right have correctly raised concerns about where Parang Agrawal sits on the ideological spectrum, pointing out a tweet he posted in 2010 basically trashing white people.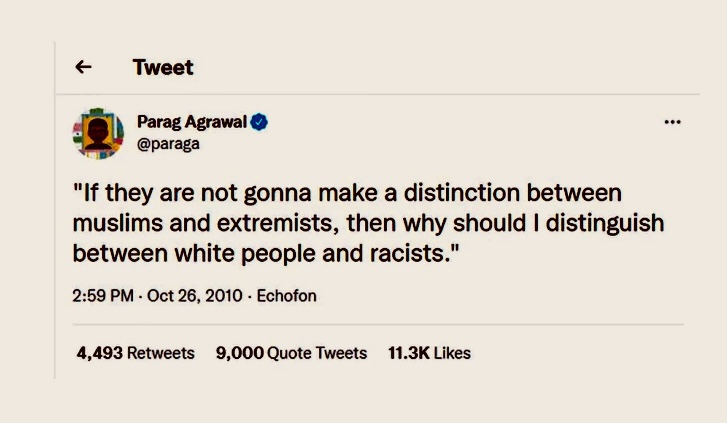 A writer at the Indian website India Today, (probably a Muslim himself), points out that the tweet was quoting Aasif Mandvi from The Daily Show. As if it matters whether it was an original thought or a quote. Aasif Mandi is also a Muslim. And if he was the one who made this statement originally, this tells you all you need to know about where he stands on Jihad as well.
But as bad as Twitter's Agrawal's racist remark is about white people, it's as if no one is noticing what's equally bad or maybe even worse – this statement is a de-facto apology for Jihad!
"If they are not gonna make a distinction between Muslims and jihadists…"

Parang Agrawal, CEO of Twitter
What is the difference, Mr. Agrawal? Is Twitter allowing a free discussion on the subject matter for us to have different opinions and takes on it, so we can better understand this complex issue? Not at all.
Twitter is banning people like Laura Loomer who criticize Islam but has no problem with pro-Jihadists like Linda Sarsour, Hamas and other terror groups on it. In fact, it has been reported that jihadists probably used Twitter as part of their tech toolkit at the time of the Taliban takeover of Kabul earlier this year. What's the difference between the Taliban and non-Taliban Afghans? We don't know. And we'll never be able to learn if it was up to Twitter because Jack Dorsey, probably under the influence of the Jihadist apologist, now CEO Parang Agrawal.
CLUELESS 'THEY' REMAIN
But who are "they" who don't understand the difference between Muslims and Jihadists? Does he mean all white people? All Westerners? All Americans?
The reality is that people in the US (or the West in general) are still not 'getting' what Islam is all about. Not if all they know about Islam comes from the incomplete education most have received when it comes to the true history of Islam. Had the true history of Islam and Jihad been taught proper in Western schools in the last several decades (or even before that), people today wouldn't be so confused. And they would know that the difference between Jihadists and Muslims who aren't pursuing Jihad boils down to how much a Muslim adheres to the Islamic doctrine or not. The more dedicated Muslims become to obeying the Islamic doctrine, the closer they match the profile of a terrorist. Furthermore, all Muslims support Jihad because all Mosques send money to Jihadist groups in one way or another.
For example, most Westerners (and people in the world in general) completely lack understanding of the genocide Islam has been perpetrating on India since the 8th century when it first attacked. This Jihad continues on until today. Scholars say that up to 400 million Indians might have been genocided by Muslims since 711 AD.
FOUR HUNDRED MILLION!
How many school books educate students about this part of history?
Don't expect mainstream Western media to do a due diligence on Parang Agrawal any time soon! They are too busy celebrating his appointment as a great achievement of multiculturalism in the US. Anything and anyone daring to expose him as an apologist of Jihad, will no doubt be labeled as an "islamophobe" (fake far-left, pro-Jihadi propaganda label), banned from Twitter and probably from all other mainstream social media platforms. Could this be the reason conservative websites are playing it safe and are pointing out Agrawal's anti-white racist remarks but won't touch the pro-Jihadist element in this same statement? Just saying.
JIHAD IN OCTOBER OF 2010
Parang Agrawal is a tech genius, if the mainstream media is to be believed. Some of us think he's a diversity hire. Oh, well. Whichever he is, he has access to information. Did he not know how many were the victims of Jihad in 2010 in October alone? According to the most authoritative source on this subject, TheReligionOfPeace.com, there were 121 Jihadist attacks in the first 20 days of October alone of that year alone!
That's 366 innocent people who were killed by Jihadists and 508 wounded!
In 2010 there were 9,262 innocent people who were killed by Muslims and 17,470 wounded.
Does Parang Agrawal know these facts?
If yes, why is he making apologetic statements for Jihad? Only a Muslim who defends Jihad could think and act like this.
We can therefore make a safe bet that Parang Agrawal is a Muslim, that his wife and family are Muslim, that he was born and raised in a Muslim family and that he went to a Muslim school. Which basically means he has been an apologist for Islam his entire life, he probably has been donating money to Muslims organizations that funnel money to fund jihad, and that he will now use Twitter to extend these same influences in the United States and around the world.
Jack Dorsey has said that "Parag has been behind every critical decision that helped turn this company around." This means he was behind the decision to ban Donald Trump, to allow Jihadists on Twitter and the banning of conservatives.
And now this same guy, a Muslim and an apologist of Islamic Jihad, is the CEO of one of the most influential US tech companies.
Orwell himself would be scratching his head if he was able to hear from the grave what the once great West has been turning into.
https://islamophobia.watch/wp-content/uploads/2021/11/bafb5099-879d-496a-8846-e5a06fd8bc60.png
400
712
admin
/wp-content/uploads/2020/06/logo-red-300x300.jpg
admin
2021-11-30 11:29:01
2021-11-30 15:16:40
Is Twitter's new Indian CEO an apologist for Jihad?